Attorney Michael Roberts
Award-Winning Rising Star Attorney

Michael Brett Roberts has believed from an early age that every person accused of a crime deserves a zealous defense. No matter your age, ethnicity, gender, or past, Michael feels you need your attorney fighting for you like they would fight for their own freedom, money, or reputation. Michael believes that good people make mistakes and he believes in second chances.
For the past nine years, he has been honing his craft by taking on tough cases, dealing with difficult judges and prosecutors, and, most importantly, by helping his clients. He has handled matters ranging from domestic violence to possession and distribution of CDS to first-degree murder.
He was honored to be awarded the New Jersey Law Journal New Leaders of the Bar Award in 2015 and 2016, and the Middlesex County Bar 2015 Young Lawyer of the Year. He has been recognized as a Rising Star by Super Lawyers® for the past three years. Michael has also been featured on local television speaking on gun rights, firearm laws, and bail reform. He has been a featured presenter to other lawyers on various topics throughout New Jersey. Michael proudly serves as a Trustee to the Middlesex County Bar Foundation, a Trustee to the New Jersey State Bar Criminal Section, and is the head coach to the Rutgers University Mock Trial, the same university where Michael earned his J.D. and his bachelor's in political science and philosophy.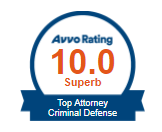 PUBLICATIONS:
Law Review CLE "Social Media and its Effect on Criminal Law" October 2011.
"The Jurisprudence of Bestiality." Louis D. Brandeis School of Law, Journal of Animal and Environmental Law. Vol. 1. Ed.2.
MEMBERSHIPS AND AWARDS:
New Jersey State Bar Association – Criminal Law Division
New Jersey State Bar Association – Young Lawyers Division
Middlesex County Bar Association – Criminal Law Division
Somerset County Bar Association
2017, 2016, and 2015 Super Lawyers® – Rising Stars for criminal defense
2016 and 2015 New Jersey Law Journal New Leaders of the Bar
2015 Middlesex County Young Lawyer of the Year
SPEAKING ENGAGEMENTS:
Young Lawyers Committee Lunch CLE - November 15, 2018
The Your Lawyers' Conference - November 10, 2018
BAR ADMISSIONS:
New Jersey – 2009
U.S. District Court - District of New Jersey – 2009
New York – 2010
Call us today at (732) 607-5553 to schedule a free consultation with our criminal defense lawyers in New Jersey.